Walk into a Forum at Bluffton University and what do you see? What do you hear? You see a majority of the audience on their phones or other electronic devices. You hear muffled music through people's headphones, bags of chips crumbling and students softly conversing among themselves, while a speaker who a majority of the students obviously have no interest in, tries to deliver a message.
The forum policy here at Bluffton is immensely flawed because of the reasons I just listed. When you force an entire student body to sit in on 60 hours of Forums during their four years here, you are susceptible to the problem of audience disinterest. What if Forums weren't mandatory? You would most likely get an audience who is actually interested and engaged. The audience may then be smaller, but you would get an audience who actually wants to be there.
Sophomore Kyle Recker believes that this problem is actually embarrassing for our school.
"I honestly think sometimes that it is embarrassing," said Recker. "I sit in these Forums and take a look around, and I see a lot of kids on their phones or having headphones in, or eating food loudly while these speakers are being brought in to speak to us. I honestly think probably 80 percent of the student body in there doesn't care."
I agree with Recker.
I also feel it is embarrassing and it is totally on us as students to be more courteous and respectful to the speaker and rest of the audience. We are all adults and have the capability to sit in silence for 45 to 50 minutes and at least act like we are interested and engaged.
But, there are other things that can be done in 60 hours that would be more beneficial for not just the students, but the campus and community of Bluffton as well. Bluffton University senior Hayden Thomas thinks community service could be a great alternative for students who do not want to go to forums.
"Why sit us in this room for a Forum? Why not make us go out and do community service?" said Thomas. "Why not put us out in the community as a student body and try to help make the village of Bluffton a better place?"
Thomas is right, students shouldn't be cornered into just going to Forums to obtain the necessary credits to graduate. If some students do not want to attend the Forums or other events that count for arts and lecture credits, then there should be an alternative way for them to earn credits for them. I don't see a problem with this as long as the alternative, such as community service, is beneficial and productive for the students. Getting out, meeting people and helping others, and the community of Bluffton, will result in making it a better place by helping the people who live here and making it look nicer.
Forums are about engaging ideas and learning, but getting out in the community and interacting with and helping others not only develops people skills that are highly necessary in adulthood, but are also a great résumé builder as well.
Another problem with the Forums at Bluffton is that students have minimal say in who the speaker is. If there is a speaker with whom a majority of the students are not familiar, then why should they care? Why should they attend? If you bring in someone whom a majority of the students agree on, then I think you will get an audience who is more engaged.
Bottom line is, it's obvious that a majority of the student body is currently disinterested in the whole Forum obligation here at Bluffton University. I feel like these ideas could greatly improve Bluffton University and should be highly considered by the contributing members. And if they aren't, then the issues discussed in this article, such as disrespectful, unfocused students and lack of interest in speakers, will continue to be a problem.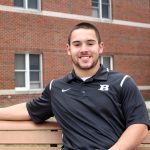 Gino Spadaro is a junior broadcasting and journalism major. He wrote this opinion piece as part of his coursework for Advanced Media Writing.