While the majority Bluffton students take classes on-campus, a few students each semester choose to complete a semester-long cross-cultural experience.
The semester-long locations include but are not limited to Guatemala, Ireland, Spain, New Zealand and Washington, D.C.
Each destination is unique and offers a different experience for the student involved.
"We are only a couple weeks in of this trip, but so far it has been fantastic," Dante D'Andrea, a junior currently in Guatemala. "So far, we have learned about the history of the country and the Mayan culture."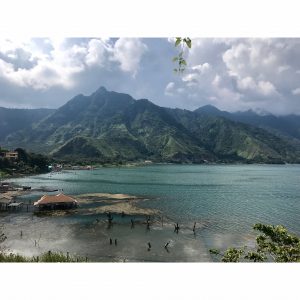 D'Andrea will be in Guatemala for the entire fall semester. He has enjoyed the trip so much that he already claims he would love to go back, if possible.
"One really big difference I have noticed here in Guatemala compared to where I come from is the traffic," D'Andrea said. "It is crazy down here."
D'Andrea, like the rest of the students spending this semester in Guatemala, has been staying with a host family. He states that his host family is very generous and welcoming and treats him like real family.
D'Andrea is one of eight students currently in Guatemala. Hanna Brian is another one of those students.
"I love it here," Brian said. "It is just sad being away from everyone for so long. But, you learn to cope with it."
So far, Brian has been to the Guatemala City General Cemetery, the National Palace, the Cathedral and Lake Atitlan, which has been her favorite stop so far.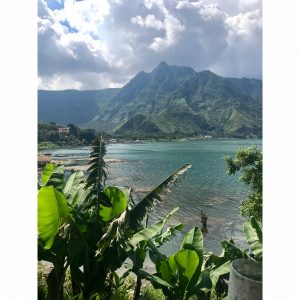 "I have learned a lot about myself throughout this trip; I also learned a lot of Spanish, as well," Brian stated. "I would most definitely recommend coming here to anyone else; it is such a great experience.
"I would love to do it again, if I get the chance."
Brian states that the language barrier can make the days more difficult.
"A lot of people here speak in different languages, and not many people can speak English very well," Brian said. "But, they are kind, caring and helpful in spite of it."
Not only do the students get to experience a different language and culture, but they live in a different environment.
Last Thursday, Brian, along with the rest of the Bluffton students and faculty and the Guatemalan people, experienced an earthquake. All Bluffton affiliates were reported safe shortly after the news broke.  
Each student has a choice of where he or she would like to take their cross-cultural experience. In the last year, six Bluffton students have spent a semester in Washington, D.C.
One of those students was Kiera Suffel, a junior communications major, who spent the spring of 2017 in D.C, along with three other Bluffton students.
"We lived in a group home with students from Eastern Mennonite University because the program, Washington Community Scholars Center, is actually administered by EMU," Suffel said. "I grew up in such a small town, so for me it was an adjustment to the city life with how busy it is and the crazy public transportation."
During Suffel's time in D.C., the Inauguration, Women's March and March for Life were scheduled to happen. So, for Suffel, it was quite difficult to not be in the heart of it all.
"When you're in Washington, D.C., you can't really tune out the news and politics, so that became very frustrating at times because there was so much of it going on," Suffel stated.
Suffel had an internship at L'Arche, which is "a nonprofit that aims to share life together by living communally with people with intellectual disabilities."
In addition to a 10- to 20-hour-per-week internship, students at WCSC are engaged in six to nine credit-hours of academic work in the areas of art, culture and history. Those classes are carried out through a four-hour "walking tour" one day a week and one evening of interactive discussion.
"I learned a lot about D.C. history and culture through the classes EMU provided," said Suffel. "They were more than sitting in a classroom listening to a professor talk."
At L'Arche, Suffel served as a communications and fundraising intern. In that role, she was able to volunteer with the core members, create content for and execute social media strategies and help raise funds to support the organization.
The cross-cultural experience is meant "as an invitation to explore and grow," and Suffel sums that up perfectly.
"I learned to open my mind, hear out others people's opinions and learn why they believe what they believe."