By Olivia Poole
As Bluffton celebrates Homecoming this week, a special feature this year will be a homecoming dance happening Saturday night.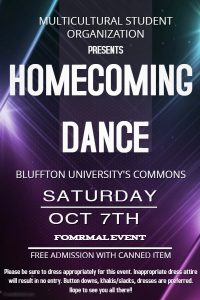 Students, faculty and staff traditionally end homecoming weekend with the big football game. This year, they will get to extend the festivities and be able to enjoy a homecoming dance. There hasn't been a dance on campus since 2010.
Sponsored by Multicultural Student Organization, the dance started with a simple conversation between the group's advisor, Tyson Goings, and last year's president of the organization, Jeremy Motley.
"The reason for the dance is that it's something the students wanted, and we are here to serve the students and create events they want," Goings said.
Currently, students and staff do not have expectations for the upcoming dance as there hasn't been one for in recent years. Some students are excited to have an alternative thing to do after the game.
"Having the dance is a safe way for students to be involved and stay on campus during the weekend," said Motley, who graduated in May.
"I'm not sure exactly what to expect," said Eli Herman, advisor for the homecoming committee."But, I've heard a lot of excitement around campus about it, so I've got high hopes.
"I'm glad to be partnering with Multicultural Student Organization to bring it back".
Admission for the dance is free, but students and faculty are encouraged to bring a canned food item to be donated to the local food bank.