Bluffton University students may see more changes in Bob's Place in the near future.
For example, the grill and deli may be getting some new features. Earlier this semester, the Student Senate put out a survey for the students to see what students like, eat, want to stay and wish to add. The survey also asked students what they did not like and what they would be okay with not having on the menu.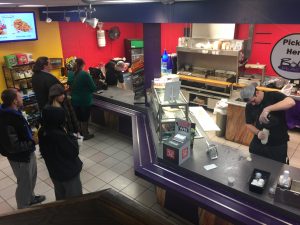 Bob's has already started adding new features during the spring semester. The full slate of changes and additions has yet to be determined. 
When the students returned from winter break, Bob's had a brand new Coke Freestyle machine. The freestyle machine lets students pick which drink they want and gives them the options to mix up the flavors.
Bob's added a few new things to their menu, as well. Fried pickles, as well as the new Bluffton Sampler, which includes chicken tenders, mozzarella sticks, fried pickles and onion rings, are just a few of the new options. Some students say the new additions that Bob's has already put into effect have been a hit.
"I like the new pop machine and additions to the menu," said freshman Jules Frazier.
They also have added a small selection of items that you would have usually had to go off campus to a store to get. Some of the items include shampoo, toothpaste and tissues.
Bob's also added some snacks students can take back to their room for later use. Those items include bags of chips, cans of Pringles, Rice-A-Roni and some other do-it-yourself, microwavable food.
"I think some of the stuff could be healthier options, but it's a good idea for students who want to go back to their room or live in the apartments," said senior Tessa Short.
"It gives you all a larger variety of stuff to choose from," said freshman Tony Sykes Jr., who works at Bob's. "The register can be confusing at times but other than that it's cool."
The survey sent around asked if students would like if Bob's added flatbreads or a Jamba Juice. Even though Bob's already serves some smoothies, adding this name brand option would give the students an even bigger selection of fruit smoothies. If Bob's gets flatbread sandwiches, it will give students another option other than burgers, grilled cheese and chicken wraps.
While Bob's allows for meal swipes, where students can get a grab and go lunch or dinner, it is also open until 11 p.m. for those students who are up late doing homework and need a snack.
Although none of these additions are a for-sure thing, students can just use their Beaver Bucks to grab some food other necessities for the time being.