By Kiera Suffel
The Bluffton Farmer's Market is held from the first Saturday of May to the last Saturday of October in the parking lot between Citizens's National Bank and the Bluffton Post Office on South Main Street.
Greg Probst is currently the manager of the Farmer's Market. He described that this is the 12th season for it and that there are 21 spots of full season vendors. It is his seventh year as a vendor. Probst said the Bluffton Chamber of Commerce started the Farmer's Market.
"The Farmer's Market is a great way to support local farmers, providers and the community," said Emma Regula, a senior at Bluffton University from Jackson Center, Ohio. "It is a great feeling to know that you are helping someone in the community and buying fresh, home-made products."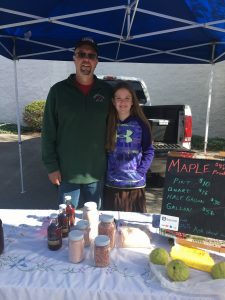 The market typically goes from 8:30 a.m. to noon. The vendors sell a wide range of items including baked goods, goat milk soaps and lotions, honey, maple syrup, fresh flowers, fresh fruits, fresh vegetables and more.
"While it's in season, the Farmer's Market is one of the highlights to my weekend," said Jackie Wyse-Rhodes, assistant professor of religion at Bluffton University. "I love the opportunity to connect with members of the Bluffton community while supporting local farmers and artisans."
The Bluffton Farmer's Market is a free event to explore but there are many items available to purchase.