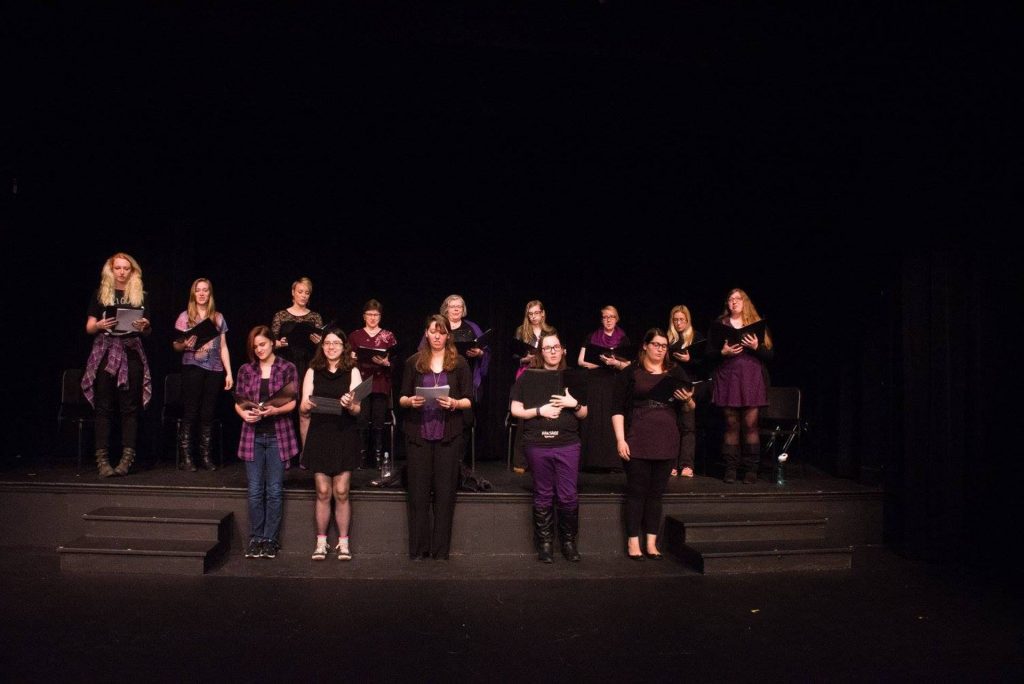 The participants of the first Beaver Monologues performance on Bluffton University's campus. Photo credit to Kerry Bush.
The Beaver Monologues project has returned to Bluffton University's campus for a second round of performances.
The project began last year when Rebecca Juliana, a social work student took on a unique departmental honors project combining her desire to advocate for social justice through theatre. Juliana's original  inspiration was taken from Eve Ensler's The Vagina Monologues, which she had directed a performance of on campus in the spring of 2015. This year, the project is being sponsored by Women's Circle and is being directed by Justina Fuqua, a junior social work major.
"I'm  honored to continue Rebecca's project for yet another year on campus. The Beaver Monologues is a performance that allows women an anonymous outlet with the potential to be almost therapeutic while also starting up a conversation on campus that needs to be had," said  Fuqua.
The Beaver Monologues is a performance highlighting women's issues from the perspective of anonymous members of the Bluffton community both on and off campus. Students, staff, faculty, and community members are all invited to submit an anonymous written monologue discussing anything and everything about the experience of being a woman. From there, the monologues are compiled into a script which a team of volunteers will perform later during the spring semester.
"In past years, the monologues project has provided a staging point for conversations about negative stigmas associated with being a woman," Fuqua explained."Why is it so taboo to talk about masturbation? Why can't I discuss sexual assault without feeling like I'm going to be attacked? Why is it uncommon for women to talk about their periods in public? Why is being a woman such a bad thing… it's not. The goal of this project is to open up a conversation and get women comfortable with asking why. Because we are all told to just go with it, and usually we do. But women need to understand that they have the right to ask why."
Last year, donations were taken at the door of the performance for Lima Crime Victim Services. The performance raised more than $700 in charitable donations, and Fuqua hopes that they will be able to meet this goal again.
"We will be giving monetary donations to Lima Crime Victim Services and donating  any non-perishable  items that are donated to  Open Arms Domestic Violence and Rape Crisis Center in Findlay," Fuqua said.
While looking forward to the project, Fuqua is nervous about the number of monologue submissions she will receive. She estimates she will need 15 submissions or more to hold the performance. In order to write the complete script and rehearse the pieces in time, Fuqua hopes to have the submissions collected by March 1.
"It's always nerve wracking to wait and see how many we'll get. On the bright side, we already have our first submission," said Fuqua. "This is all up to the women of the Bluffton community, though. The conversation has to start with them."
To submit a monologue anonymously, go to www.beavermonologues.webs.com or email beaver.monologues@gmail.com with questions.