By Nicole Centofanti
Bluffton students can now download and use the Moodle Mobile application on their phones and other devices.
Moodle is the academic social media platform of choice here at Bluffton University, thought it could not always be accessed via an app. Though the Moodle App previously was available, Bluffton students were only able to access and use it following an upgrade the university made to its Moodle system this summer. Students can now access the information their professors have made available for them to stay organized, help meet due dates and keep track of grades, all on their mobile devices.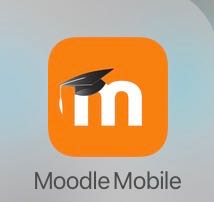 Amber Button is a first-year student who currently uses Moodle Mobile. Overall, it keeps her on top of her homework for classes, she said.
"I like the accessibility and how easy it is to check on my classes," she said.
Stephanie Fox is another first-year student who uses the Moodle app. She said her prior school used systems similar to Moodle.
"Some teachers used Google Classroom and some used Schoology," Fox said.
What she likes most about Moodle Mobile is, "it is easy to navigate and self-explanatory."
Whether it is to find out what one's homework is or checking one's grades, Fox said Moodle makes it easy. One can submit assignments straight from their phone or tablet.
Both Fox and Button like how accessible the Moodle application is for them. Moodle Mobile can be download from the Apple Store or Google Play and provides quick access to course information and assignments, which can be submitted straight from a phone or tablet. Moodle Mobile does not require one to login every time.