There is more to Bluffton University's Head Soccer Coach James Kusak than meets the eye. Coach Kusak is originally from Louisville, Ky. Kusak went to Centre College, a Division III liberal arts college in Danville, Ky. While there, Kusak majored in history and minored in anthropology. He also received a master's degree from Spalding University in Louisville, Ky., in business communication and organizational leadership in 2016.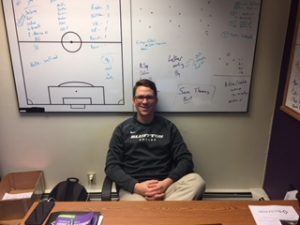 Bluffton was not Kusak's first time as a coach. His first opportunity came after his senior year at Centre College.
"I did not set out to be a college coach," said Kusak. "Originally, I had planned on teaching at the high school level and coaching in some capacity. During the spring of my senior year, my coach at Centre, Jeb Burch, presented me with an opportunity to serve as a volunteer coach following my graduation from Centre. I jumped at the opportunity and never looked back."
Kusak was an assistant coach in 2012 at Hendrix College in Conway, Ark. During the 2013-14 season, Kusak became the assistant coach at his alma mater, Centre College. In the 2015-16, Kusak went to Spalding to be the graduate assistant, before he got the head coach position at Bluffton.
"Soccer has given me so much in my lifetime already that I wanted to give back to the game- what better way to do that than to impact young men on a daily basis," said Kusak.
Kusak said he has had a couple monumental moments in his coaching career already. The first one came during his time being a volunteer coach at Centre when the team made it to the NCAA tournament for the first time since 1998. Kusak said that is something he will never forget.  
He said landing the head coach position at Bluffton was another big milestone for him, especially since it was his first time at the helm. Bringing up a large freshman class for the 2017 season is up there in importance as well.
"This group is the start of something great here at Bluffton, and it is so awesome to be able to work with a great group of young men," Kusak said.
Kusak is more than just a coach at Bluffton. He said his favorite part about being at Bluffton is the interaction with the community. He said he believes it's important to be a part of the whole community of Bluffton, and not just the athletic community. He said he enjoys teaching because it gives him the opportunity to get to know other students at a personal level as well as impact more than just his players.
Kusak's hobbies include exploring, hiking and experiencing new things and places with his wife and dog. Kusak is not just a soccer fan, either. He said he also enjoys watching sports of all kinds, listening to music and attending concerts.