On Thursday, Feb. 8, 2018, the Musselman Library hosted its fourth annual research fair as part of Celebrate the Library Week.
The fair allows faculty to nominate students' research projects, internships and summer grant opportunities. Students then present at the fair to their fellow peers, faculty and community members.
Hannah Wagner, a first-year student, was nominated for her Honors Seminar in Composition and Literature research project, "Size Doesn't Matter." Additionally, she was nominated for her Becoming a Scholar project.
"Size Doesn't Matter" covered height discrimination in sports, where she researched the average heights of players in professional sports. Her Becoming a Scholar project was about what companion animals are and the different types of companion animals.
When she heard she was nominated for two projects, she was "pleasantly surprised."
"I was proud of the outcomes of both of these projects and was honored that my professors believed that they were worthy of being a part of the annual research fair," Wagner said.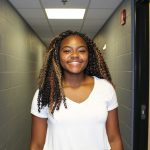 Another first-year student, Claire Myree, was nominated for two projects, as well. Myree's projects were entitled, "To Live A Dream a screenplay by Claire Myree" and "Self-Love and the Art of Black Hair Care Maintanence."
Many times, students are nominated for one project, but the addition of another gave Wagner and Myree a unique opportunity to share and present what is important to them.
"It was slightly challenging presenting two different projects at the fair instead of one because my projects were very different in subject and content," Wagner said. "However, I enjoyed being able to discuss both projects because they represent two of my favorite things—soccer and my interest in the unique relationship between humans and animals."
"I was able to share two of [the] works that I cared about and that I wanted others to see and care about, as well," said Myree.
When students present at the fair, they are expected to have an elevator speech prepared for when students, faculty and community members want to learn more about the project.
In addition to preparing an elevator speech, students are expected to make a poster board that would display the most important facts or details of their project.
Both Wagner and Myree admit to facing some challenges when making the poster.
"As I prepared for the fair, I struggled to decide what to include on my poster boards and what to emphasize the most in my speeches," Wagner said.
"It took me a while to finish to poster boards for them, but it was worth it in the end," Myree said.
However, they were able to overcome the challenge, and were given opportunities to learn while presenting at the fair.
"The experience of presenting at the research fair allowed me to practice my presentation skills—being confident and professional and finding my voice," Wagner said.
Her belief is that this opportunity will help her on her journey at Bluffton.
"This experience has encompassed Bluffton's core value of discovery because it allowed me to develop new presentation skills and find my voice as a student at Bluffton," Wagner said.
Myree was thrilled with the outcome of the fair, as well.
"This experience has helped me because it showed me that people are willing to learn about things that they are unfamiliar with."